Car Divisions
Here are descriptions of the cars that regularly run at The Bullring at LVMS.
USLCI Bandoleros
This class features the youngest drivers, with the Bandits division consisting of racers age 8-11 and Outlaws 12 and older. These cars reach speeds of up 60 miles per hour and feature engines producing approximately 30 horsepower. They are great classes for young drivers to learn how to compete.
USLCI Legend cars
With Yamaha 4-cylinder motorcycle engines producing approximately 120 horsepower and speeds up to 70 miles per hour, these race cars are modeled after early American-made sedans and coupes. Drivers range in age from 12 to 75 years old, and this class is segmented into Young Lions, Semi-Pro, Pro and Masters divisions.
USLCI Thunder Cars
Modeled after early Indy cars, these speedsters run the same motors as the Legends, but reach higher speeds (up to 80 miles per hour) because they run racing tires. Drivers must be at least 16 years old to pilot these cars.
NASCAR Super Stocks
Resembling late American-built 1970s to mid-1980s coupes, Super Stocks run small-block Chevy and Ford engines that pump out an estimated 375 horsepower. Racers 14-16 need a NASCAR Learner's Permit to compete, and the class features drivers of all ages reaching speeds of 75 miles per hour.
NASCAR Bombers
American-built sedans from the 1970s and 1980s, Bombers also run small-block engines that create approximately 275 horsepower. Often battered like demolition derby-type cars, Bombers have the same age requirements as Super Stocks.
NASCAR Modifieds
With a chassis built off the foundation of American-built sedans, NASCAR Modifieds run approximately 90 miles per hour thanks to engines in the neighborhood of 650 horsepower. This class' age requirements also mirror Super Stocks and Bombers.
NASCAR Super Late Models
The featured cars of The Bullring, NASCAR Super Late Models have an all-fiberglass spec body and resemble NASCAR Sprint Cup cars more than any other class. With the same age requirements as the other three NASCAR divisions, Super Late Models run small-block Chevy engines that produce roughly 600 horsepower and can reach speeds of more than 100 miles per hour.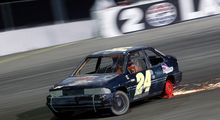 Skid plate cars
These front-wheel drive racers have metal skid plates in place of rear wheels, making them a handful to navigate around the track. Racers routinely spin out and drive wildly while behind the wheel of the unpredictable cars, giving fans a thrill and a chuckle. Lap times are less important than just making it across the finish line when these cars are skidding around the track.