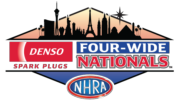 Friday, April 16 -
Sunday, April 18, 2021
NHRA Camping World Series
Ignite your senses when The Strip goes back to four-wide racing, April 16–18, 2021! Catch all of the Nitro action as the top names in the NHRA Camping World Drag Racing Series return to The Strip for the DENSO Spark Plugs NHRA Four-Wide Nationals.
Burnout RV
The Burnout RV Lot feature reserved camping and is located next to the drag strip behind the general admission grandstands. This allows for easy access to the pits and main grandstands.
Rows 1-2: $175
Rows 3-7: $150
Tow Pass: $30
Please call to purchase.
* Race tickets sold separately.
Trackside RV
This coveted camping area overlooks all of the action on the drag strip. You can witness your favorite NHRA drivers up close and personal as they speed past your RV site. Parking positions are extremely limited, so make sure to lock yourself in for one of the most unique camping experiences any drag strip can offer! Includes four general admission weekend wristbands and one tow pass. Additional wristbands (up to 6) are available for $99.
Spaces 32-118: $750
Additional Tow Pass: $30
Please call to purchase.