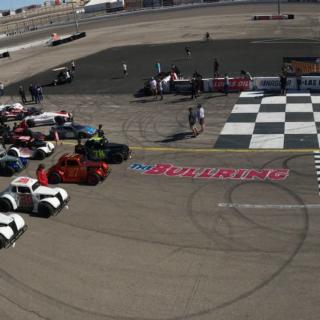 More than 100 drivers expected from across the nation
Monday October 22, 2018
For the second consecutive year, the Bullring at Las Vegas Motor Speedway will see a flurry of activity when the US Legends Asphalt Nationals come to town this weekend.
Recent Headlines
10/21/18

A year after settling for a disappointing second-place finish, Jeremy Doss got a great dose of redemption at the Senator's Cup Fall Classic on Saturday night.

The Upper Lake, Calif., driver executed a last-lap pass of Gracin Raz, then held off a charging Austin Herzog to take the checkered flag in the 150-lap Open Comp and earn a check for $15,000. Herzog was subsequently disqualified after failing post-race tech inspection, leaving Raz in second place, .197 of a second back.

10/19/18

Austin Herzog served notice on Friday night that he should be considered a contender at this year's Senator's Cup Fall Classic at The Bullring at Las Vegas Motor Speedway.

The Clovis, Calif., driver clocked the fastest lap in Super Late Models qualifying for the 150-lap Open Comp, crossing the line in 14.516 seconds at the 3/8-mile oval. That was nine-thousandths of a second quicker than Gracin Raz's 14.525-second lap, and Trevor Christiani was third at 14.573.

10/18/18

In one month, a crowd of nearly 2,000 will join together, clad in their finest pajamas, to get some exercise and enjoy a fun and festive event at Las Vegas Motor Speedway.

10/09/18

The team from Auto Club Raceway at Auto Club Dragway combined for 74 points to capture the Team Championship at the NHRA Summit Racing Series Pacific Division Finals in Las Vegas, and Bobby Dye, Sacha Hoefer, Garrett Hoefer, Rick Newport and Zach Meziere took individual titles and now advance to the NHRA Summit National Championship.