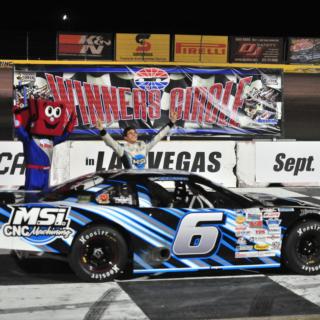 Ash wins Late Model Truck Series race to tie Goodwin for second in Bullring wins
Sunday September 23, 2018
Tyler Fabozzi was more like an astronaut than a race car driver at The Bullring on Saturday night.
The Brea, Calif., resident got behind the wheel of an absolute rocket ship on Pack the Track Night, gliding to the 50-lap NASCAR Super Late Models feature victory by 7.540 seconds. Fabozzi lapped everyone except second-place Jimmy Parker Jr. and third-place Scott Gafforini and picked up his first win since April 21 at the Las Vegas Motor Speedway short track.
Recent Headlines
09/18/18

Discounted ticket prices and a double-digit slate of racing await short track fans at The Bullring at Las Vegas Motor Speedway on Saturday.

Fans can enjoy a full night of 10 races at the 3/8-mile paved oval for the special rate of $5 per ticket, with seniors age 55 and over and military personnel admitted for just $4. As with all Bullring events, children age 12 and under are free with a ticketed adult.

09/16/18

Keselowski Wins Three in a Row - Brad Keselowski and the No. 2 team are on fire after winning their third race in a row, and it couldn't come at a better time in the season. In addition to scoring his 27th series victory, Keselowski also handed Team Penske its 500th victory overall. 

09/15/18

LVMS has crowned another first-time race winner, and this time it was Ross Chastain, an eighth-generation farmer turned race car driver who hoisted the winner's trophy.

He led six times for 180 laps and stayed in front of several late race crashes to arrive in victory lane in his 132nd series start.

09/14/18

Live updates from the track for NASCAR weekend.