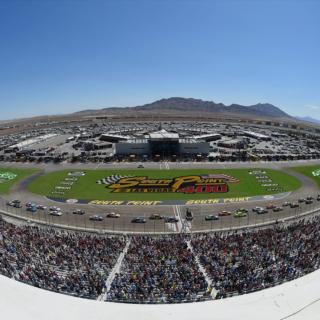 Thursday August 06, 2020
NASCAR Announces Final Installment of 2020 Schedule;
Playoff Dates and Locations Set For All National Series
NASCAR today announced the final installment of events in the revised 2020 schedule, including the full Playoffs schedule for all three national series.
In the NASCAR Cup Series, all 10 playoff venues and dates will remain intact from the original 2020 schedule, with the postseason kicking off at Darlington Raceway on Sunday, Sept. 6 (NBCSN, 6 p.m. ET) and culminating with the crowning of a champion for the first time at Phoenix Raceway on Sunday, Nov. 8 (NBC, 3 p.m. ET).
Recent Headlines
08/06/20

Dear race fans:

On behalf of all of us at Las Vegas Motor Speedway, I hope this email finds you and your family safe and healthy.

NASCAR recently confirmed all playoff dates for the 2020 season for the NASCAR Cup, Xfinity and Gander RV and Outdoors Truck series. I'm sure this announcement comes with many questions from our race fans with many of you wondering whether we will be able to have fans in attendance.

The simple answer is that we don't know. Yet.

08/05/20

Despite challenges of global pandemic, Speedway Motorsports, Nexgrill partnered to bring engaging activations to NASCAR fans through innovative watch-and-win activations

All eight Speedway Motorsports facilities took part in the six-week campaign to drive NASCAR viewership by giving fans the chance to be winners alongside their favorite drivers

08/03/20

On Sunday, Aug. 2, Insomniac announced the world's largest dance music festival, Electric Daisy Carnival, will return to Las Vegas Motor Speedway on May 21, 22 and 23, 2021 to celebrate 25 years of EDC. The 2020 iteration of the festival was postponed due to the ongoing global pandemic. Over the past quarter of a century, EDC has become a globally renowned and premiere event, hosting guests from across the world celebrating music, art, life and community and creating transformative experiences Under the Electric Sky.
More News
Get exclusive deals and event news in your inbox