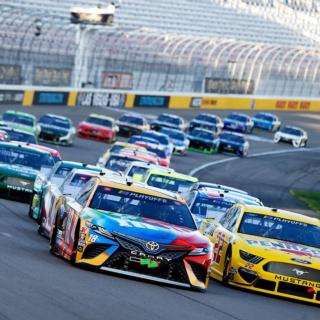 Wednesday September 30, 2020
For the fourth consecutive year, Las Vegas Motor Speedway is set to host two NASCAR Cup Series events in 2021.
The speedway's annual spring date, the Pennzoil 400 presented by Jiffy Lube, returns to its traditional first-week-of-March date and will be run on March 7, 2021. Earlier this year, the race date fell in late February. The 2021 fall South Point 400 again will kick off the second round of NASCAR's playoffs, on September 26.
NASCAR announced the complete 36-race schedule today with several notable changes, including new events at Circuit of the Americas in Austin, Texas, a race at Road America in Wisconsin and a race at Nashville Superspeedway. A dirt race on the high banks of Bristol also was among the slated changes.
Recent Headlines
09/27/20

Kurt Busch has said winning at Las Vegas Motor Speedway would be the equivalent of winning the Daytona 500. Thanks to a timely late-race caution, a little boy's dream came true.

"This is what kids dream of," said an emotional Busch in Victory Lane. "Winning in your hometown. For two decades this place has kicked my butt. I really miss the fans. I miss them so much. My hometown is really special. This really means a lot. Thanks to Brendan Gaughan, the South Point, Las Vegas Motor Speedway, all my family and friends that have meant so much."

09/27/20

The South Point Hotel, Casino and Spa and Las Vegas Motor Speedway announced a multi-year extension of the hotel's sponsorship of the annual fall NASCAR Cup Series race.

The sponsorship extends a longstanding partnership between LVMS and South Point owner Michael Gaughan that dates to the speedway's construction in 1996.

"Michael Gaughan has been a great friend to Las Vegas Motor Speedway for decades, and we're infinitely proud to continue to have South Point as a major part of our NASCAR Cup Series Playoff race," LVMS President Chris Powell said. "The South Point 400 has become a pivotal playoff race and has been well received by our race fans and the competitors."

09/26/20

Saturday night's NASCAR Xfinity Series playoff opener was called the Alsco 300, but had it been called the Chase Briscoe 300, no one would have protested.

Briscoe was totally dominant winning all three stages in route to posting his second straight Xfinity win at Las Vegas Motor Speedway.

"I will definitely sleep easier tonight knowing Talladega and the (Charlotte) Roval are next," said Briscoe, who picked up his series-best eighth win of the season.

The only real stress Briscoe faced all night came in the race's final laps when Alex Labbe's car stalled at the entrance to pit road forcing a caution. On the ensuing restart, Briscoe had to fight off a tough challenge from Las Vegas's Noah Gragson, but pulled away for the win.
More News
Get exclusive deals and event news in your inbox