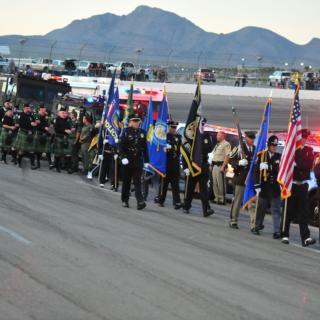 Monday March 25, 2019
For the fifth consecutive year, The Bullring at Las Vegas Motor Speedway will pay homage to Las Vegas-area police, firefighters, EMTs and other first responders at Hometown Heroes Night this Saturday.
Recent Headlines
03/10/19

To say Saturday was a good night to be a member of the Jacks family at The Bullring at Las Vegas Motor Speedway would be an understatement.

03/03/19

5:30 pm - Good Night - That's a wrap for this weekend's NASCAR coverage. Joey Logano came through with the victory for Team Penske and rained all over Kurth Busch's Sin City parade in the process. He'll take his points lead on down to Phoenix for Round 4 of the 2019 season. 

We'll meet back up here in mid-September for the South Point Casino weekend when we'll do it all again. 

03/02/19

Live Updates for Cup Series Practice and the Boyd Gaming 300

03/01/19

Live Updates for NASCAR weekend.