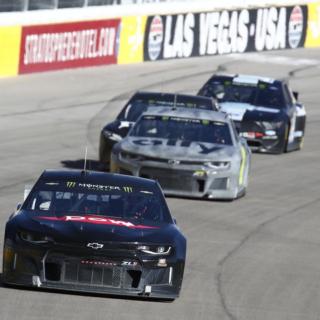 Track activity comes one month before Pennzoil 400 weekend
Friday February 01, 2019
A group of 21 NASCAR drivers completed an historic organizational test with a sunny half-day session at Las Vegas Motor Speedway on Friday.
In addition to single-car laps, drivers ran two more drafting sessions on the final day, racing at high speed around the 1.5-mile speedway in packs of up to 11 cars. NASCAR's two-day test session was scheduled to help drivers get accustomed to the new 2019 Monster Energy NASCAR Cup Series aero package that is designed to foster tighter racing.
Recent Headlines
02/01/19

Dodge//SRT and Mopar announced Friday a partnership with Pennzoil to pump up participation in the National Hot Rod Association (NHRA), doubling their number of event title sponsorships for the 2019 season.

01/31/19

Las Vegas Motor Speedway was buzzing with the sound of horsepower on Thursday as 21 drivers spent 10 hours testing NASCAR's new ground-breaking aero package for the 2019 Monster Energy NASCAR Cup Series season.

01/31/19

Race fans visiting Las Vegas Motor Speedway for September's NASCAR tripleheader will have the pleasure of seeing all three races finish under the lights.

01/30/19

Trackside Live, the show built on racing and fueled by fans, will be broadcast live on the Neon Garage stage as the kickoff to the Pennzoil Performance RV Appreciation Party following the March 2 Boyd Gaming 300 at Las Vegas Motor Speedway.