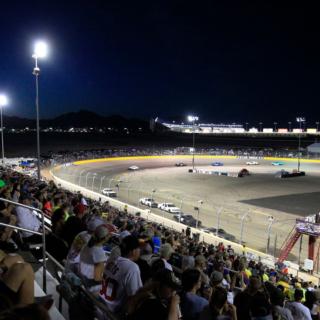 Dowell, Leonard new leaders in their divisions
Thursday July 18, 2019
The Bullring's wildly popular Night of Fire turned out to be a great chance for points leaders to pad their advantages, as well as an opportunity for two drivers to overtake the top spots in their divisions.
Recent Headlines
07/17/19

Rhino Pro Truck Outfitters, a leader in fleet, commercial and off-road vehicle installations, a one-stop shop installer of accessories and fabrication for trucks, commercial vehicles and cargo vans, has signed on as title sponsor of Las Vegas Motor Speedway's Sept. 14 NASCAR Xfinity Series race.

07/04/19

Not even an eight-month layoff could keep Jimmy Parker Jr. from the Winner's Circle at The Bullring on Saturday night.

The reigning NASCAR Super Late Models track champion made a triumphant return to the Las Vegas Motor Speedway short track by taking the Spirit of '76 race ahead of 2019 points leader Chris Clyne in front of a packed house at the 19th annual Night of Fire. Parker Jr. edged Clyne by .712 of a second for his 14th career Bullring win and first Night of Fire title.

07/01/19

The Bullring at Las Vegas Motor Speedway will be buzzing with activity on Wednesday, July 3, when the short track hosts its immensely popular Night of Fire.

06/18/19

Local NASCAR and Las Vegas Motor Speedway fans are in for a treat this summer, thanks to the Passport 2 the Playoffs promotion that kicks off today.