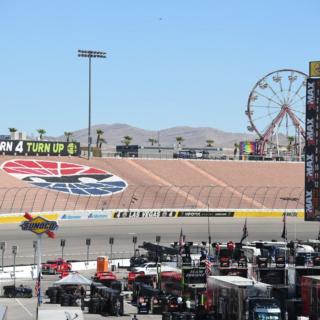 Popular Turn 4 Turn Up fan area returning, free to all ticketholders
Wednesday February 20, 2019
Attending a NASCAR race at Las Vegas Motor Speedway is an experience like no other, and the track is working with its partners in the "Entertainment Capital of the World" to provide a plethora of activities for fans to enjoy during their visit next week.
Recent Headlines
02/19/19

With major portions of Project Neon now complete, Las Vegas Motor Speedway officials are excited and optimistic about the track's traffic outlook for next week's NASCAR Weekend.

02/18/19

The fan-favorite NASCAR Hauler Parade will be bigger and better than ever before when it returns to Las Vegas next week.

NASCAR fans can see their favorite drivers' haulers make their way up the Las Vegas Strip beginning at 6 p.m. Pacific Time on Thursday, Feb. 28, as the city and Las Vegas Motor Speedway kick off the spring 2019 NASCAR Weekend. The parade is a favorite among racing fans and will begin at the Las Vegas welcome sign on Las Vegas Boulevard.

02/01/19

A group of 21 NASCAR drivers completed an historic organizational test with a sunny half-day session at Las Vegas Motor Speedway on Friday.

In addition to single-car laps, drivers ran two more drafting sessions on the final day, racing at high speed around the 1.5-mile speedway in packs of up to 11 cars. NASCAR's two-day test session was scheduled to help drivers get accustomed to the new 2019 Monster Energy NASCAR Cup Series aero package that is designed to foster tighter racing.

02/01/19

Dodge//SRT and Mopar announced Friday a partnership with Pennzoil to pump up participation in the National Hot Rod Association (NHRA), doubling their number of event title sponsorships for the 2019 season.