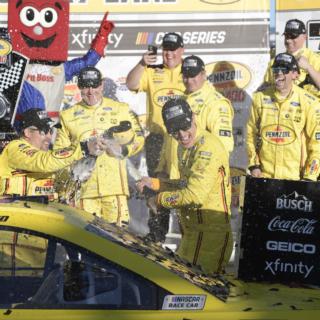 Briscoe takes checkered flag in Boyd Gaming 300
Sunday February 23, 2020
7:19 pm - Weekend Wrap - That's a wrap on this weekend's coverage of NASCAR racing at LVMS. Thanks to Mother Nature, we had an interesting weekend that culminated in a rare doubleheader. Cup driver Joey Logano returned to Victory Lane here with a new crew chief by his side.
Recent Headlines
02/22/20

Rain has postponed the Boyd Gaming 300 NASCAR Xfinity Series race at Las Vegas Motor Speedway after the completion of Stage 1.

All Saturday tickets will be honored on Sunday, and seating priority will go to those with Pennzoil 400 tickets. Saturday ticket holders will have access to standing room only areas for the Pennzoil 400.

The race is scheduled for completion on Sunday, and will be run after the conclusion of the Pennzoil 400 presented by Jiffy Lube. The Boyd Gaming 300 will resume approximately one hour after the Cup race concludes.

02/22/20

Live Updates for the Boyd Gaming 300

02/21/20

Kyle Busch collected his 57th winner's trophy in Truck Series with a dominating run. This was his third victory and fourth top-10 finish in four series starts at LVMS.

Sauter's runner-up performance was his 10th top-10 finish in 14 starts at LVMS. He opens up the 2020 season with a pair of top-10 finishes and leads the point standings by one point over third place finisher Austin Hill.

02/21/20

It had been 17 years since Kyle Busch drove into Victory Lane at his hometown short track, The Bullring at Las Vegas Motor Speedway.

On Thursday night, the man who's accustomed to lifting hardware in the NASCAR Cup Series took home a trophy that was close to his heart.
More News