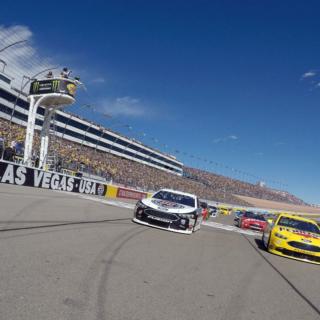 Las Vegas track added NASCAR weekend, two lanes to drag strip in 2018
Thursday November 29, 2018
CONCORD, N.C. - In recognition of outstanding leadership and performance across its premier motorsports facilities, Speedway Motorsports, Inc. (NYSE: TRK) officials named Las Vegas Motor Speedway, led by President and General Manager Chris Powell, as Speedway of the Year; while Executive Vice President and General Manager Greg Walter and the team from Charlotte Motor Speedway was recognized as Promoter of the Year.
Recent Headlines
11/27/18

Las Vegas Motor Speedway will continue to make history in 2019 by pairing the NASCAR K&N Pro Series West and World of Outlaws events for the first time.

11/17/18

Jeremy Doss doubled down at The Bullring at Las Vegas Motor Speedway on Saturday night.

The Upper Lake Calif., driver survived a caution-filled SPEARS Southwest Tour race to take yet another checkered flag at the 3/8-mile track and clinch the series' season championship in the process. Doss - who won the $15,000 Senator's Cup Fall Classic in Las Vegas last month - led the majority of the 150 laps and crossed the line 1.206 seconds ahead of Eric Schmidt for the $10,000 winner's check.

11/16/18

In January, Police Chase Las Vegas will offer thrill seekers an opportunity so unique that it can't be replicated anywhere else in the United States.

Patrons will go behind the scenes and actually participate in a simulated police chase. Hearts will pound as lights flash and sirens blare when "suspects" attempt to outrun the guns as they are pursued by the "police."

11/11/18

Entries numbered more than 300, and Jason Hughes backed up his opening night qualifying feature victory by winning Saturday's IMCA Modified Duel in the Desert main event and taking home a $7,777.77 check.

More than 20 states were represented at the Las Vegas Motor Speedway Dirt Track, and drivers from 13 of them qualified for the Modified main event, while a record 97 Northern SportMods took the green.