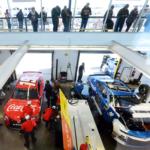 Neon Garage
The Neon Garage is back in action for the South Point 400 weekend. It's the perfect combination of VEGAS and NASCAR! Neon Garage passholders will have access to Victory Lane, entertainment, tech inspections, and driver Q&A's. Since NASCAR is still not holding practices or qualifying, it will be a little different. A Neon Garage Pass also grants access to a NASCAR-approved viewing area behind the team pit boxes near Pit Road.
Weekend Pass: $79
Single-Day Pass: $49

Note: Neon Garage Passes do not include gate admission. Children ages 12 under & are FREE into the Neon Garage with a ticketed adult, but require a credential for entry. This pass is not the equivalent of a NASCAR Hot Pass for pit road access. Pricing will increase by $5 on Sept. 13, 2021.
Racing Electronics Scanner Rental
Racing Electronics Fan Scanner Rental with 1 Headset, 2 Headsets, or 2 Headsets with Easy Talk System.
Once purchased, you will receive a mobile ticket in the mail to redeem your scanner and headset at the Racing Electronics trailer when you arrive at the track. Mobile tickets will be activated closer to the event. Valid ID required at the time of pick-up.
Weekend Rental: $45–65
Lucky 7 Preferred Parking Pass
If you're in a rush when the race ends, this is the place to park. It is the closest parking area to the main grandstands and has a dedicated exit lane from the property following the event. This lot empties first following the checkered flag. This pass is valid for three days of Lucky 7 parking for one low price!
Single-Weekend: $59
Annual: $118
Please Note: During race weekend, Lucky 7 Parking Pass will call is located at The Dirt Track at Las Vegas Motor Speedway.